Strengthen Education for our Children and Prepare Them for the Jobs of Tomorrow
I'm a strong proponent of public education. My husband and I attended public schools, and so did our two children – who started school a few years after the passage of Measure 5. As a parent volunteer, I saw the devastating consequences of budget cuts. This strengthened my commitment to fighting for great public schools for all children, where educators have the resources and support they need.

I joined parents and community members to rally for school funding on the Capitol steps in Salem, and my passion for public education ultimately led me to serve as a State Representative, a State Senator, and now a Member of Congress.

In Congress, I have the honor of chairing the Education and Labor Subcommittee on Civil Rights and Human Services. I've led hearings on pay equity, federal child nutrition programs, child abuse prevention, LGBTQ equality, youth homelessness, employment discrimination, and protections for pregnant workers.

One of my most significant accomplishments in Congress was when I served in a lead role in the replacement of No Child Left Behind and helped write the final version of The Every Student Succeeds Act (ESSA). I also created the bipartisan Congressional STEAM (Science, Technology, Engineering, Arts, and Math) Caucus to advocate for the integration of art and design, broadly defined, into STEM education to prepare all students to be creative, critical thinkers who will have the critical thinking skills they need to solve the problems of tomorrow.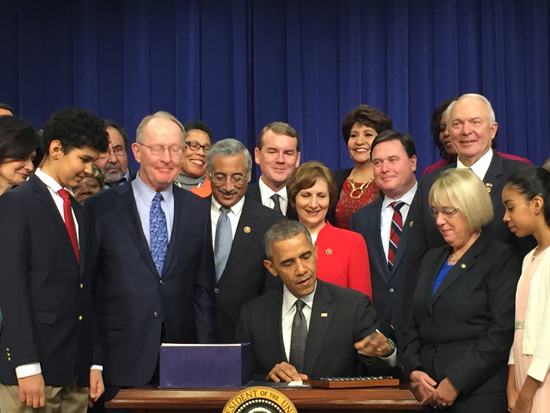 There is a lot more to do to make sure all students have access to a well-rounded education.
Going forward, my priorities include:
*Expanding access to high-quality early learning opportunities so every child, regardless of background, family income level, or ability, can start kindergarten prepared to learn.
*Addressing resource inequities in K-12 education to make sure states and school districts can provide counseling services, advanced courses, technology, extended learning opportunities, rigorous career and technical programs, and a well-rounded curriculum that includes the arts.
*Developing meaningful assessments and evaluations that are designed with input from educators. Assessments should be used to inform instruction, not to punish teachers or schools.
*Taking action to prevent gun violenceso students and teachers can feel safe and be safe in their classrooms. 
*Making college more affordable by protecting and expanding existing federal student aid programs like Pell Grants and Federal Work Study, and striving for debt free college. In the short term, we must keep student loan interest rates low and help students manage student loan debt through income driven repayment. I worked my way through community college, college, and law school, and understand the importance of access and affordability.