Strengthen Education for our Children and Prepare Them for the Jobs of Tomorrow
My youngest child was born the year Oregon's Measure 5 passed, drastically reducing school funding. As my two children entered public schools, I became an active volunteer and saw the consequences that budget cuts have on our children. Conversely, I also saw the value of small class sizes and courses that can be offered when are schools are well-funded. Even though my children are now grown, I remain committed to fostering a strong public education system - pre-kindergarten through college - that provides all students, regardless of background and ability, with a well-rounded education that helps them meet their full potential and prepares them for the future.
As a state legislator, I heard concerns from students, teachers, and parents about the need to reduce high-stakes testing and how that testing had replaced a focus on well-rounded education. I worked hard to address these concerns as a state legislator, but realized that the key was to end the misguided federal policies of No Child Left Behind.
These issues were among my top priorities when I ran for Congress more than five years ago.
In Congress, I worked hard to earn my position on the House Education & Workforce Committee. From my position on that Committee, I've focused on increasing access to early childhood education, career and technical education, arts education, college affordability, and expanding childhood nutrition programs.
We were able to make the most significant changes during efforts to reauthorize the Elementary and Secondary Education Act (ESEA) in 2015.
ESEA has been central to public education since the mid-1960s when it was passed to help create equity in public education as part of President Lyndon Johnson's 'War on Poverty'. The Title I dollars that go to schools with concentrations of low-income students are critical to that effort.
During President George W. Bush's administration, ESEA became No Child Left Behind. Unfortunately, this law emphasized test scores, imposed punitive labeling for schools that did not raise sufficiently raise scores, and prescribed "one size fits all" interventions" that caused disruption to schools and communities. As states and local districts worried about performing well enough to get the funding they needed, they also added layers of testing to prepare students for the federal tests. We saw a shift away from well-rounded education, resulting in the elimination of art, music, and physical education.
Leading up to and throughout the Committee hearings in 2015, I worked closely with colleagues in the House and Senate on the reauthorization of ESEA. It was an honor to earn a position on the joint conference committee tasked with writing the Every Student Succeeds Act (ESSA), and the final version includes both provisions from my SMART Act, which will lead to fewer, better assessments, and my amendment to encourage STEAM, the integration of arts and design into STEM.
It was exciting to stand with President Obama as he signed ESSA into law, and I look forward to working closely with state education leaders as they implement ESSA.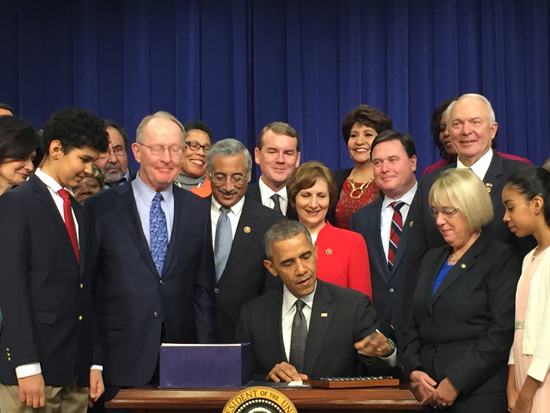 ESSA is a significant step in the right direction, but there is still a lot of work to do to strengthen public education and increase access to higher education. I will continue to work on:
*Expanding access to high-quality early learning opportunities so young children in every community and from every cultural and socioeconomic background can participate in enriching activities that prepare them to do well when they enter school.
*Providing students with a well-rounded education. As I travel around the district, employers often tell me they need innovative, creative problem-solvers and critical thinkers. We must continue to help states and school districts invest in arts and music, physical education and health, world languages and civics, and other programs that help keep students engaged in school, foster creative thinking and problem solving, and prepare students to be thoughtful citizens.
*Addressing resource inequities in K-12 education by helping states and school districts respond to gaps in resources, including gaps in access to advanced courses, technology, art and music, counseling services, challenging after-school programs, and rigorous career and technical education options.
*Preparing the workforce of tomorrow by working with our community colleges and workforce training programs so the education and training they offer are aligned with our local needs. As a state legislator, I worked on legislation that connects job seekers to training and certification programs for jobs in everything from health care to welding to wind power and other clean energy technologies. I have continued this effort in Congress by helping to pass the Workforce Innovation and Opportunity Act , which links small businesses with workforce development programs and community colleges to prepare job-seekers with the skills they need to find work in their communities. Similarly, as a member of the Science, Space and Technology Committee, I know that our workforce needs to be prepared to fill 21st Century jobs.
*Making college more affordable by encouraging states to reinvest in their public systems of higher education, expanding financial aid programs - like Pell Grants, that deliver resources to low-income students - improving financial counseling for students and parents, and reforming repayment options for existing borrowers so they can realistically repay their student without risking delinquency or default. Today's common reality of crippling student loans and ensuing defaults is a threat to our economy. I will continue to fight for every child to have the opportunity for an accessible and meaningful K-12 education and beyond.