A long record of extremism
Last night, Donald Trump's running mate, Indiana Governor Mike Pence, took the stage at the Republican National Convention.
Trump's stance on reproductive choice seems to change often – but recently he called for women who undergo an abortion to face "some form of punishment."
With Governor Pence there's really no question: he has a long record of extremism.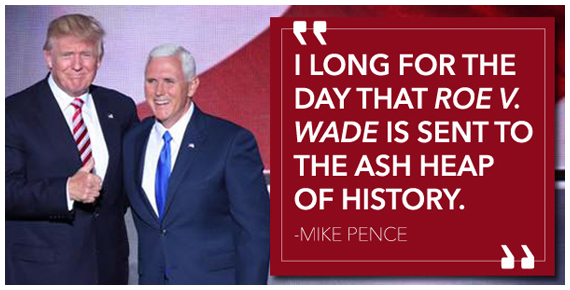 In 2011 when he was in the U.S. House, Pence pushed to defund Planned Parenthood.
As Indiana's Governor, he slashed Planned Parenthood's funding until they closed five small clinics that provided STD testing (not abortions). He recently signed a law to ban abortion in cases where the fetus has a severe genetic anomaly – and it was so unpopular that many Republicans voted against it.
It's clear: the Trump/Pence ticket is bad for women and it's bad for our nation.